New head elected in HÖOK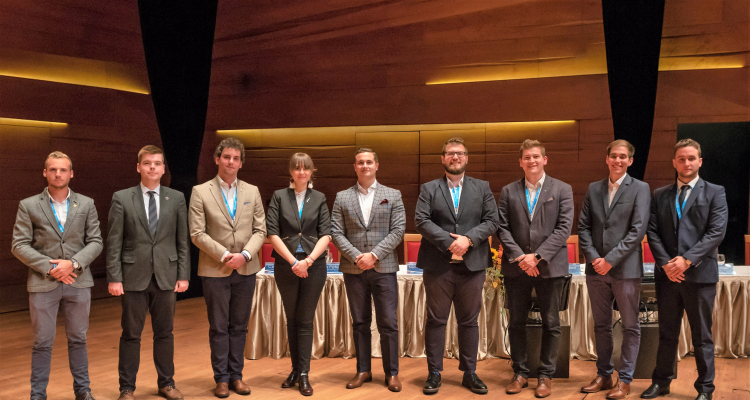 László Murai, student of ELTE, was elected president on HÖOK's General Assembly on 6th October. His mandate starts on 1st January, 2019 and is authorised for 2 years. László Murai has been the head of ELTE BTK HÖK and then of ELTE EHÖK until July 31., 2018.
In his debut speech the president-elect has expressed his commitment on continuing the reform of student allowances: based on the agreement between HÖOK and the Ministry of Human Capacities, after raising the social grants by 40% the performance-based students' grants should follow.  
He added that improving the accommodation opportunities in dormitories with the so called "Budapest Diákváros" programme and with some innovative strategies requires constant and committed work.
The president stated that in order to make the organisation's communication more continuous and effective he attempts to but bigger emphasis on modern communication tools that the young generation's lives are encompassed by.

The General Assembly elected Péter Kovács (PTE) as vice-president.

See the presidency below:
- András Jancsó (PPKE)
- Bálint Hassmann (SZIE)
- Viktor Kiss (BGE)
- Dávid Kosztrihán (NKE)
- Csilla Eszter Kovács (DE)
- László Kósa (SE)
- Gergő Németh (SZE)
- Zoltán Pekár (BME)
Edina Kiss, head of the HÖOK Mentor Programme, held a speech about her successful work in the previous years, too: 3 years ago the programme used to operate with 162 mentors and 1514 metees. This year, with the help of 319 mentors, it assists the lives of 2586 freshmen students.
Stipendium Hungaricum Mentor Network  was launched in 2018. Almost 1200 students applied for a mentor in its first 36 hours. The foreign students are assisted by nearly 300 mentors in order to get familiar with our country, its culture and history. Tamás Töhötöm Kaizinger, executive of the network, highlighted that the fundamental aim is not only the integration of the ever-growing number of foreign students: in order to promote positive feelings in foreigners towards our country, improving Hungary's image is just as significant.
HÖOK's work has spread all around the Carpathian Basin. Thanks to the so called Külhoni Program (Cross-border Programme) of HÖOK, the unions standing for the Hungarian students living outside our country are now the institutional members of HÖOK.
photo: Sütő Richárd